by Gabby Nelson
Trinity College's Center for Urban and Global Studies (CUGS) recently hosted a panel discussion on Turkey's shift from a democratic to an autocratic regime. The March 28 event, titled "At the Crossroads: Identity and Conflict in Turkey," served as both an academic exploration of the topic and a celebration of Trinity's commitment to hosting academics in exile. Since 2008, CUGS has hosted seven visiting rescue scholars facing severe and targeted threats to their lives and/or careers because of their academic work in their home countries.
Allan Goodman, president of the Institute for International Education (IIE), gave welcoming remarks and presented the IIE Centennial Medal to Xiangming Chen, dean and director of CUGS and Paul E. Raether Distinguished Professor of Global Urban Studies and Sociology, in recognition of his contributions to international education.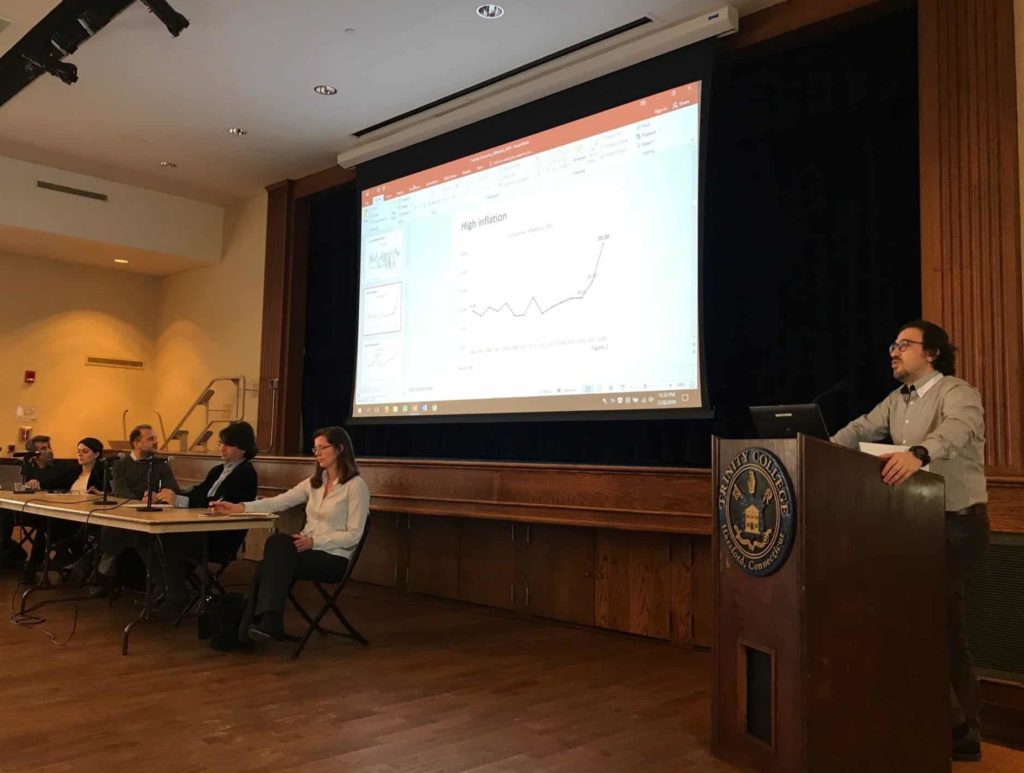 Panelists at the discussion included Utku Balaban, research fellow at Humboldt University's IGK International Research Center and research fellow at the Forum Transregionale Studien; Nazan Bedirhanoglu, postdoctoral fellow in political science at Wellesley College; Hasan Comert, assistant professor of economics at Trinity College; Savas Ergul, IIE Scholar Rescue Fund visiting scholar at Trinity College; and Cem Ozataly, visiting research scholar at the New School for Social Research and associate professor of sociology at Galatasaray University in Turkey. The panel was moderated by Zayde Antrim, associate professor of history and international studies at Trinity College.
Balaban began the discussion by observing, "Turkish people ask each other every day, 'How did we end up here?'" Through their expertise across academic disciplines, the panelists sought to answer this question.
Comert, an economist, emphasized the increasing unemployment, high debt, and volatile economy in Turkey. He presented three potential paths the economy may take in the near future and noted the large possibility of a full-scale financial crisis in Turkey.
Ozatalay focused on how Turkey has followed a trajectory from inclusive "Turkeyism" toward exclusive "Turkism" through imperial "Islamism" in the last 17 years under the current president, Recep Tayyip Erdogan.
Ergul highlighted the role that the government's conflict with the Kurds plays in the country's instability. Ergul traced the start of the Kurdish question back to the dismemberment of the Ottoman Empire and emphasized that while the government wants the Kurds to assimilate, the Kurds want their political and cultural status recognized as legitimate.
Bedirhanoglu presented on foreign policy, concluding that, "Turkey is not a reliable ally, nor is it a predictable actor in international politics."
In response to an audience member's question, a divide emerged among the panelists. When asked about the potential for change, Ergul responded, "I don't have much hope for Turkey. An internal solution is not possible at this time." Bedirhanoglu echoed his sentiment, noting the impending elections in Turkey and her lack of hope that the election will change anything. Comert offered a different view, saying, "I feel the pessimism from time to time, but at the same time there have been signs of weakness in the government… [and] there are many important and brave people who are daring to stand up to the current regime," which gives him hope for change.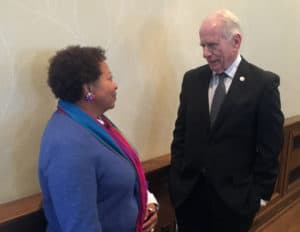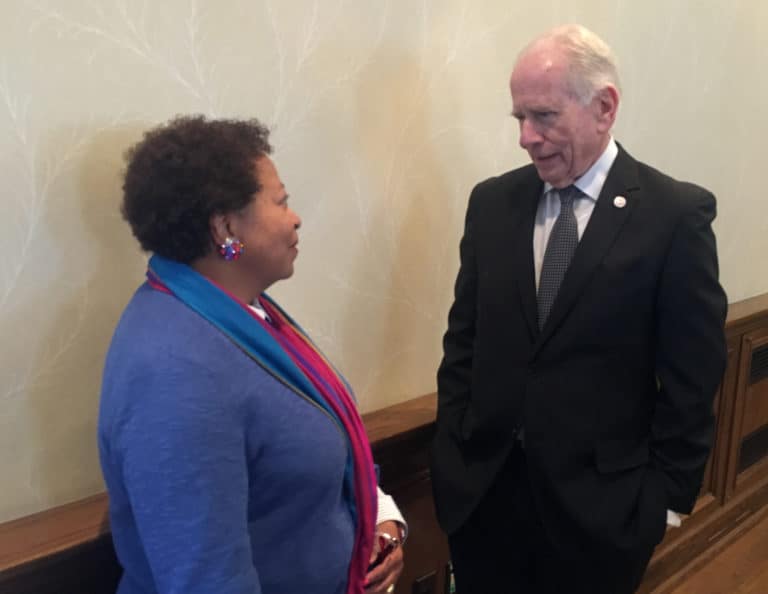 Trinity College is a founding member of the New University in Exile Consortium, which is led by the New School in New York City. Trinity's scholar rescue program, overseen by Chen, is a one-year or two-year fellowship supported by the International Institute of Education's (IIE) Scholar Rescue Fund and the Scott Michael Johnson '97 Memorial Fund, which was established by a former chairman of Trinity's Board of Trustees, Tom Johnson '62, Hon. '05, P '97, and his wife, Ann. They initiated the fund in honor of their son Scott, a member of the Trinity College Class of 1997 who lost his life in the World Trade Center on September 11, 2001.