Trinity College alumna Mariam Avagyan '18 was welcomed back to campus recently to give a presentation about a robotics and coding camp for children that she hosted last summer in her home country of Armenia using a Davis Projects for Peace grant. The April 9 presentation was part of the Global Vantage Point Lecture Series at Trinity's Center for Urban and Global Studies. Avagyan, who double-majored in mathematics and electrical engineering at Trinity and is now an engineering Ph.D. student at Columbia University, was awarded a Davis Projects for Peace grant in 2018, as one of two Trinity students to receive the grant that year.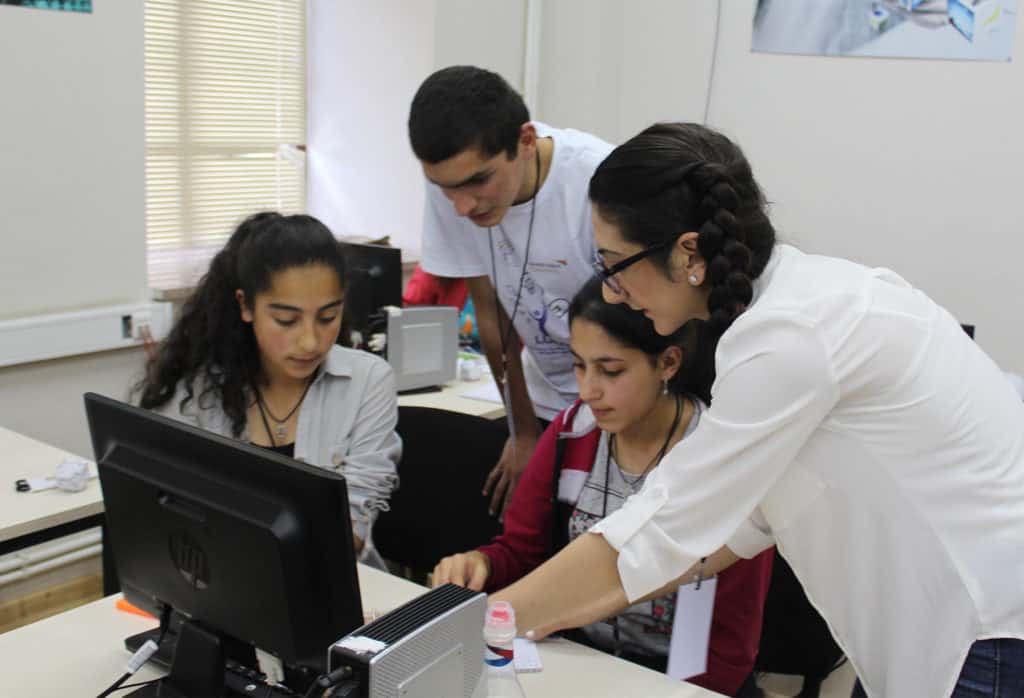 The camp offered children living in conflict-ridden areas of Armenia bordering Azerbaijan the chance to learn about robotics and coding. Using her experience leading the Connecticut Zero Robotics team in 2017, Avagyan designed the camp to use engineering to promote peace. Participants took part in the Zero Robotics competition hosted by MIT and NASA; Avagyan's camp was called "ZeRoRo Armenia," based on the title of the competition.
During her presentation at CUGS, Avagyan spoke about the history of the conflict in Armenia and its effect on the people living near the border with Azerbaijan. "It kills me that kids have to think about this and not their education," Avagyan said of children affected by the conflict. She detailed how children in these regions are taught to stay away from machines, which are largely seen as dangerous weapons of war, and how she wanted to show them a different side of engineering. In her view, engineering is "the most peaceful thing in the world."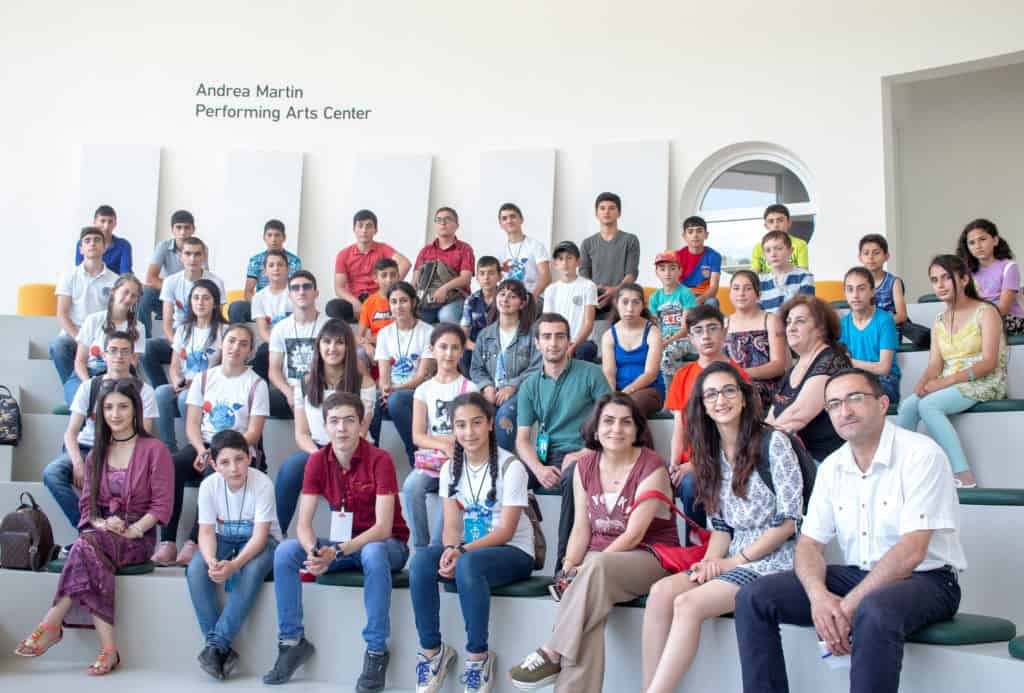 One difficulty that Avagyan encountered was finding girls to participate in her program. It was important to her that the camp consisted of an equal number of girls and boys. World Vision Armenia, which provided a matching grant to fund the camp, assisted with the recruitment of participants who would benefit from this kind of program. The organization returned a list to Avagyan, but she was disappointed to see that all of the participants were boys. This was unacceptable to Avagyan, who then personally called the parents of girls to convince them to let their daughters attend her camp. She eventually recruited five girls.
Avagyan spoke about how she was pleasantly surprised that the children were so interested in learning how to code. She said that when she announced a five-minute break on the first day, the children responded by saying, "Wait, no, why do we need to take a break?" They wanted to keep learning, Avagyan said. Each night, when they were scheduled to play games, the children continually asked to keep coding, rather than play games. At the end of the camp, the children were able to send their code to space through the Zero Robotics program. Avagyan hoped to instill in the children that they can dream big by showing them that even though they are growing up in a warzone, they can send a code that they wrote to space.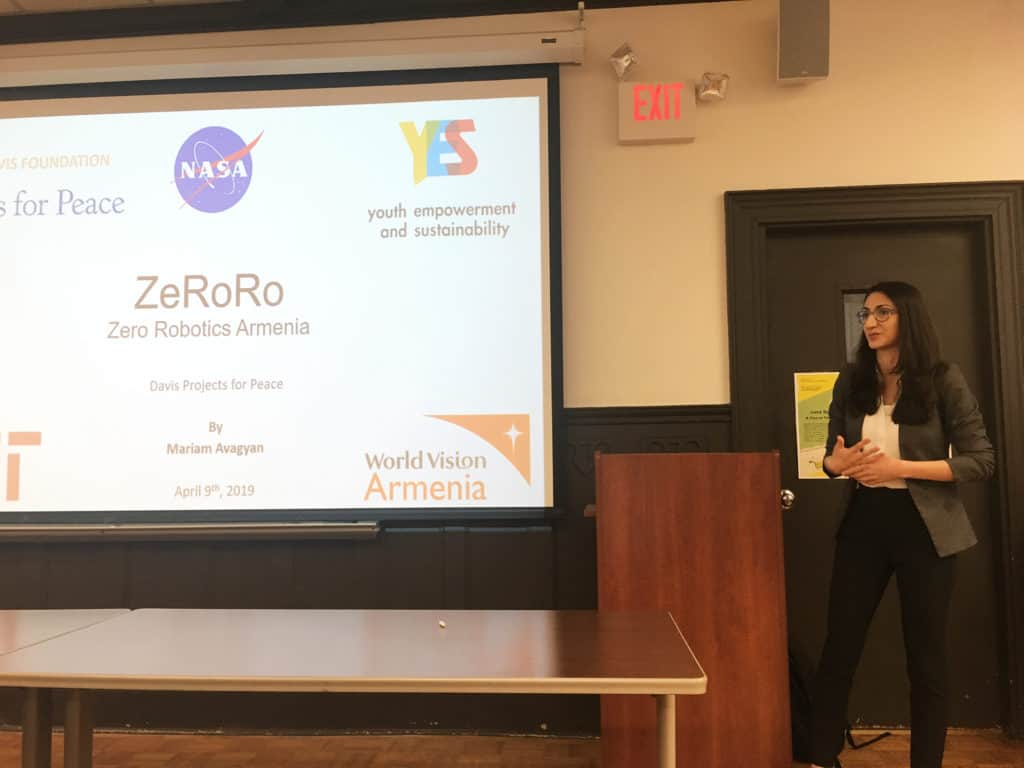 In her presentation, Avagyan discussed the intangible effects of the camp, such as increased confidence amongst participants, and cited a handful of concrete examples of the positive impact of the camp. One participant created an app which can be downloaded on iTunes and was recently contacted with a deal by a publishing company. Another participant recently applied to United World College (UWC), inspired by a guest presentation on UWC by Trinity student Stella Tangiyan '20. When asked how many of the participants are now interested in pursuing engineering as a career, Avagyan responded, "All of them."
Avagyan spoke with admiration of her time at Trinity, crediting many of her professors with teaching her how to conduct research, manage her time, and work with children. She emphasized that her experience with the Interdisciplinary Science Program (ISP) and the Institute of Electrical and Electronics Engineers (IEEE) were fundamental in developing the skills needed to carry out this project. The "ZeRoRo Armenia" project was an integrating exercise for her, bringing together and testing all that she learned at Trinity.
Avagyan leveraged a number of partnerships to make the camp possible. Her supporters and partnerships included the Davis Foundation, IEEE, Learntribute LLC, YES Armenia, World Vision Armenia, and the Trinity College Center for Urban and Global Studies.